At the Men's Soccer Club at Arizona State we strive to provide top tier training and education while keeping it affordable for the local community and supporting our community members in need with donated funds!
ALL donations will be donated to Jacob's family to help support his fight against Leukemia. To read more about Jacob and his fight against Leukemia click here or scroll to the bottom .
| Boys Age Group | Dates | Cost |
| --- | --- | --- |
| U8-U13 | July 28 – July 30 | $60 + Donation |
| U14-U18 | August 4 – August 6 | $60 + Donation |
Registration Closes Sunday July 16 at 11:59PM
When: All camp sessions will be 2 hours for 3 days in the evening/night. The exact times will be sent out once all campers are registered and we assign players to age groups.
Camp will take place from 6:30PM-9PM each of the 3 days of the camp, Friday-Sunday.
Where: Sun Devil Turf Field, 511 S Dorsey Lane, Tempe, AZ
Camper to Staff Ratio will be a maximum of 5-1 to maximize each players growth!
Campers will receive a shirt and MSC ASU sponsored Drawstring bag!
The Men's Soccer Club at Arizona State will be hosting our 2nd Annual Youth Summer Camp this summer after the huge success in last year's camp!! Give your youth the opportunity to increase their skills, connect with others, and, most importantly, have a great time playing soccer.
Our mission throughout the duration of the camp will be to help increase the core areas of soccer such as dribbling, passing, and more while also preparing youth to be more confident with the ball and with other players.
Players will have the opportunity to work with the amazing MSC ASU Coaching Staff and current players of the team!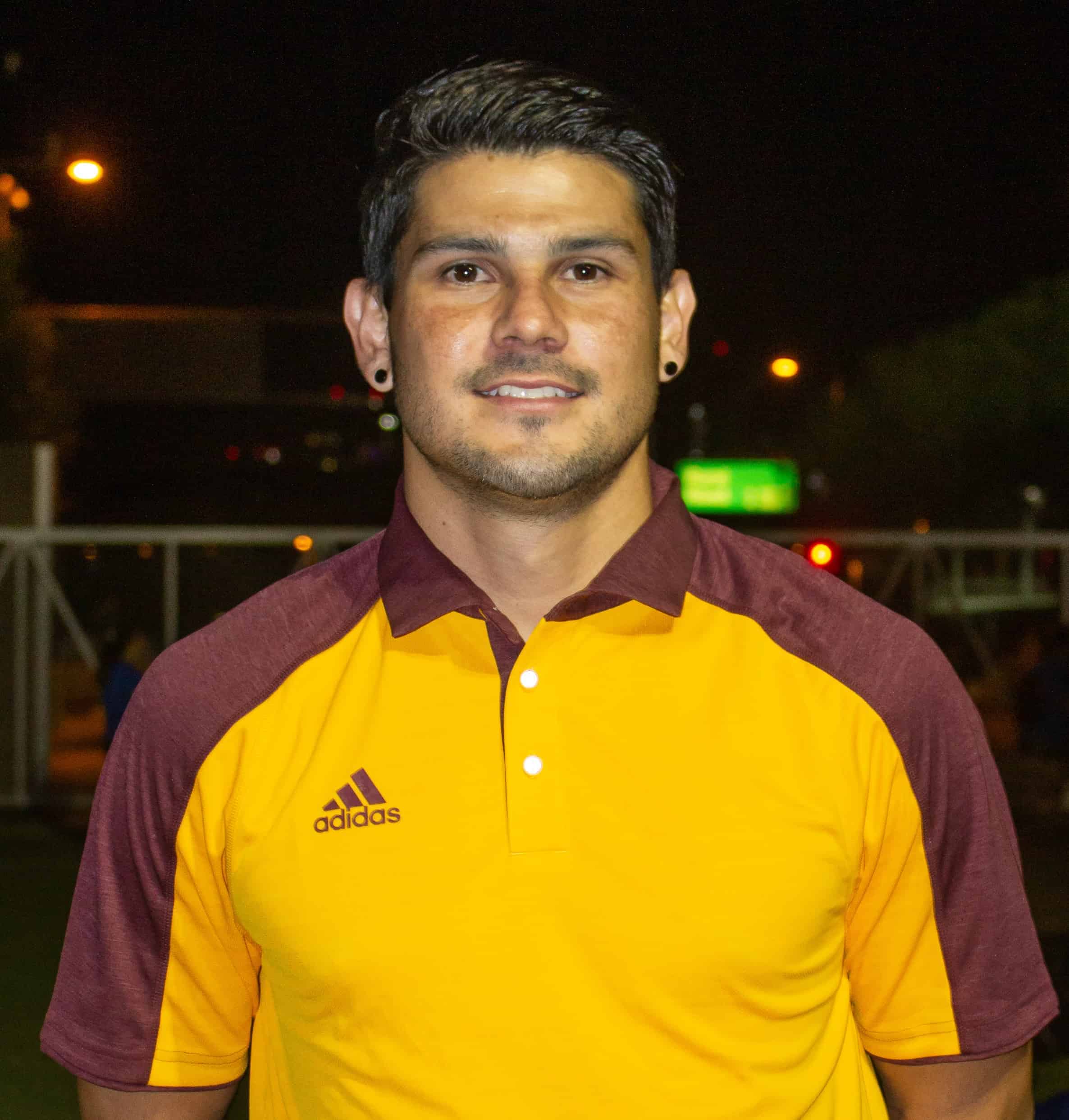 HEAD COACH ALEJANDRO "ALE" AGUILAR
Coach Ale was born in Costa Rica and represented the Costa Rica National Team in multiple national games while also playing in the MLS, USL, and Costa Rica Premier League where he won the 4x League Titles and a Copa Costa Rica during his playing!
Ale brings with him the knowledge, experience and training of the highest level as a coach AND player that we are all lucky to receive!
US Soccer & Costa Rica Federation Coaching Licensed
As coach for the Arizona State Men's Soccer Club, he has helped lead the team to multiple high finishes in the Conference, including back to back Conference Championship in 2021-2022 and 2022-2023, a SW Cup Championship in 2023, and solid runs into Regionals.
Throughout the program, we will maintain a player-to-staff ratio of 5 campers:1 staff member to maximize the potential for development and progression for the youth players.
This IS NOT a recruiting(ID) camp, however, if players are committed to ASU already, they may be assessed or could have the opportunity to get to know the team.
Register today to help get your youth on the right track and helping them succeed!
---
Meet Jacob
Jacob was diagnosed with B Cell Acute Lymphoblastic Leukemia on May 31, 2022. He is the youngest of three boys and enjoys playing Xbox games with his brothers and building Lego sets. Prior to his diagnosis, he played the position of defender on his soccer team with Arizona Sports Complex. He is a big fan of Neymar and Messi and some of his most prized possessions are soccer cards of his favorite players. He also ran cross country at his elementary school and is a Boy Scout with Troop 224 in Phoenix. Jacob has an entrepreneurial spirit and is self-motivated and driven to accomplish his goals. His dream is to play soccer at a university and successfully run his own business someday. His ability to play sports and participate in scout outings is very limited due to his treatment. But he can't wait to get back on the field and back in nature. Jacob has spent numerous days in the hospital during his journey so far, battling treatment-related side effects, allergic reactions to medications and multiple planned inpatient stays to receive life-saving chemotherapy. Barring complications or relapse, he is set to finish treatment in October of 2024. His drive to overcome his obstacles is an inspiration and testament to his strength and bravery.